Training at El Tordillo: Teaching from the heart
Cardiopulmonary resuscitation (CPR) drills for everyone in the San Jorge Gulf basin, in Chubut. Lots of instructors, hundreds of eager learners, and much excitement.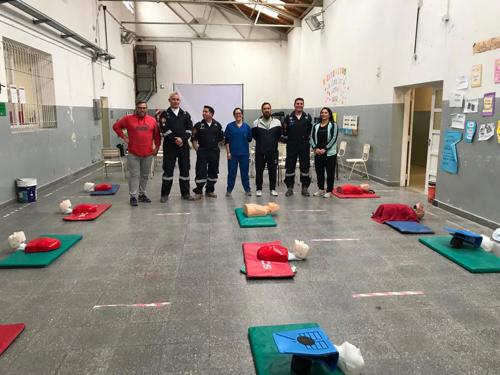 A group of teachers and directors from the Charles Darwin School No. 7702 of Comodoro Rivadavia got in touch with the El Tordillo Emergency Brigade because they had a problem: many of their students suffered from epilepsy and they needed a clear action plan to help them in an emergency.
Marcelo Egea, who is the HSE supervisor at the San Jorge Gulf Basin operation (SJFB) and one of the El Tordillo brigade leaders, explains that, "we sized up the situation and proposed a different kind of course to the institution, bearing in mind the particular situations of the epilepsy seizures they told us about, in addition to potential choking problems. They took the decision to develop this knowledge specifically rather than take a more general first aid course, to make it more useful."
Explaining what knowledge needed to be taught was the first step in the process. Then, they redesigned the course to take a more extensive approach to CPR and assistance in cases of epilepsy as well as seizures in general. This was a classic case of how less became more!
The course was given in workshop format, with theoretical and practical parts, and involved all the members of the brigade. Different community organizations also chimed in with support throughout the process. For example, the school's lifeguard corps and physical education department donated the CPR kits, including a mannequin to practice on for every two people.
However, Marcelo was very pleasantly surprised by the enthusiastic response of the participants: "I've worked in many educational institutions so my expectations were fairly moderate. Of course, I knew that we were going to get some degree of participation, which is standard for this type of training course, but I was really surprised to see so many keen participants. We ended up holding four sessions with a maximum of twenty-five people for each one. The degree of participation was incredibly positive and the feedback and results were great in all aspects. We were extremely satisfied with the event."
One hundred people played an active role in the delivery of the courses, including teachers and non-teaching staff. To achieve the objectives set, the brigade set up a team of instructors including Débora Paz, supervisor of the El Tordillo Nursing Service, the brigade member Hugo Torres, Safety Chief at the SJFB operation, Eduardo Amado, Brigade Crew Chief and Supervisor of Production at the SJFB, as well as Marcelo Egea. "It was a great day, very enjoyable. The truth is that everyone was very motivated and people's response was excellent."
"Right now we're getting requests to provide the courses to more schools in the area," says Marcelo proudly. "Clearly, there's a great need in the community and we really love helping people out. I've been a firefighter for 23 years, I love my job, and inasmuch as we can, we will continue to share our knowhow and best practices."