"Vaca Muerta is a game-changer for this country"
Ricardo Markous opened the 2022 Argentina Oil&Gas CEO Meeting with an analysis of the current and future challenges facing this unconventional development.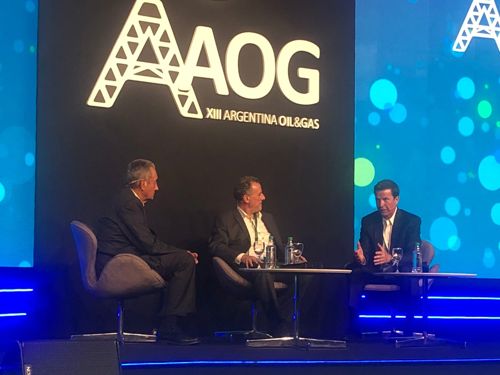 Tecpetrol CEO Ricardo Markous joined the president of Tenaris for the Southern Cone, Javier Martínez Álvarez, at the AOG's first CEO Meeting.
The executive kicked off the panel with an overview of Vaca Muerta's potential, sharing some impressive figures to demonstrate Tecpetrol's development in Fortín de Piedra.
"This is clearly our flagship project, perhaps the most important in our history to-date. When we took the decision back in April 2017 to invest in Neuquen, there were only a few experimental wells under way. In just a few months, six drilling rigs had sprung up. We invested in building 275 km of pipelines and a treatment plant, and just two years later, we were producing 17 million cubic meters of gas per day, 15% of total national output," highlighted Markous.
Today, over a hundred wells have been drilled, and production output is nudging 20 million cubic meters of gas per day, "a highly significant level of activity that makes us very proud of having invested USD 2.3 billion in Fortín de Piedra."
Markous took the opportunity to single out the challenges arising from an energy market in full transformation mode as supply chains regroup against the backdrop of the war breaking out in Europe. "Argentina has a responsibility to develop its gas and oil resources."
The Tecpetrol leader stressed that "although on this mission, all basins are important, and so is maintaining production levels, it's Vaca Muerta that's the game-changer for the country."
"With thirty-four drilling rigs in operation, last year Neuquen contributed 330,000 of the total of 560,000 barrels of crude oil produced in Argentina, and of these, 220,000 came from unconventional oil. As for gas, the province produced 90 million of the total national output of 130 million cubic liters of gas. Half of that came from shale. In both unconventional oil and gas, year-on-year growth has reached 68 points, amply demonstrating the recovery capacity that shale has," explained Markous.
The executive added that "With the productivity levels we're achieving thanks to greater horizontal branch lengths, as well as the number and size of fractures, if we can manage to go from thirty-four to forty-eight drilling rigs in the next five years, Argentina could be producing 170 million cubic liters of gas and almost one million barrels of oil. Of this, 140 million cubic liters of gas and 800 thousand barrels of oil would come from Neuquen. Although not easy, this is absolutely possible."
Gas, the star of the show
Markous explained that the production of plentiful shale gas from Vaca Muerta at competitive rates is the key differential "in this energy transition context, as gas has lower CO2 emission levels than coal or oil and its derivatives."
"Argentina is one of the countries with the greatest gas component in its energy mix. The country currently has a production potential that exceeds domestic consumption levels, meaning that it could easily export to Chile, Brazil and Uruguay. Looking forwards, at a more ambitious level, it could even develop LNG projects to transport gas to any country in the world, thus importing hard currency," he explained.
To achieve this, "the gas pipeline project is fundamental. This is something that we at the Techint Group have been pushing for several years, and now the public call for tender has been launched." Markous explained that "the new gas pipeline is a transformational project for Argentina," and that it would represent "a new chapter of heightened added-value for the gas chain and drive the expansion of productive activity." He also said that this would contribute "to enhancing the transformational capacity of multiple companies and the country as a whole." He referred again to Fortín de Piedra as a paradigm: the activity around these fields in the last few years has mobilized over a thousand SMEs from different provinces, making up the Techint value chain.
"Argentina has the opportunity to attract significant gas-intensive investments (for fertilizers, petrochemicals, bitcoins, etc.), creating jobs and driving the development of SMEs throughout the country," he said.
Energy integration
In the same vein, Javier Martínez Álvarez pointed out that "in a world in full transformation, Vaca Muerta continues to be a latent opportunity."
The head of Tenaris for the Southern Cone shared his analysis that due to the "extremely painful context of war in Europe, and the uncertainty this causes for production and the supply chain, Latin America can make a vital contribution on the basis of its proven competitive resources and energy security status, as this is a region with no likelihood of conflict."
"Energy security has not been talked about much until now, and it's going to become central to the West. If Argentina has the capacity to build predictability, set clear rules and project a reliable long-term outlook, its proposal to help meet the challenges facing the energy sector in Europe, and indeed, the world, will be very strong," affirmed the executive.
Martínez Álvarez added that the development of Vaca Muerta must definitively get into gear, leveraging the country's industrial heritage and the investment commitment made by both the public and private sectors.