Renewing a long-standing commitment to education
The Techint Group is once again launching its call for applications to its Roberto Rocca Scholarships program for secondary school students in Argentina. The program reflects the Group's long-standing commitment to working closely with the communities neighboring its operations, and to contributing to young people's development by supporting their education, with a view to enabling their access to a better future and greater social mobility.

The Techint Group has just opened its call for applications for the Roberto Rocca Scholarships program for secondary-level students. Candidates may apply from July 6 to August 5. The Scholarships program is part of a broad-based educational project designed to encourage academic excellence and commitment to study, recognize outstanding students, contribute to equal opportunities, and foster social progress at the community level.
The high-school scholarships program is one of the Techint Group's longest-running initiatives and is the scheme with the greatest presence worldwide. Launched in 1976 in Argentina exclusively for the children of company employees, in 2006 it was opened up to all students from the different communities where the Group is present.
Currently, the program is being implemented in 39 communities in 18 countries (Argentina, Brazil, Canada, Chile, China, Colombia, Ecuador, United States, Guatemala, Indonesia, Italy, Japan, Kazakhstan, Mexico, Nigeria, Peru, Romania and Uruguay). In Argentina, it receives the support by the Fundación Hermanos Agustín y Enrique Rocca as well as the sponsorship of Tenaris, Ternium, Techint Engineering & Construction and Tecpetrol.
Since the program began, the Group has awarded over 14,000 high school distinctions in Argentina alone. In 2021, when the world was facing the onslaught of the pandemic, more than 1,070 students in seven provinces across the country were distinguished with the award. The criteria used to select the candidates were based on academic excellence and also took into account diversity and inclusion, both in terms of gender (57% women and 43% men), and background (61% from technical schools and 39% from non-technical schools).
To reaffirm the Group's long-standing commitment to education, this year, it established June 10 as "Roberto Rocca Education Day" (Roberto Rocca 01.02.1922-10.05.2003), a joint initiative taken by all the Techint Group companies. This year is also the 100th anniversary of his birth, a date that commemorates his legacy in the field of education.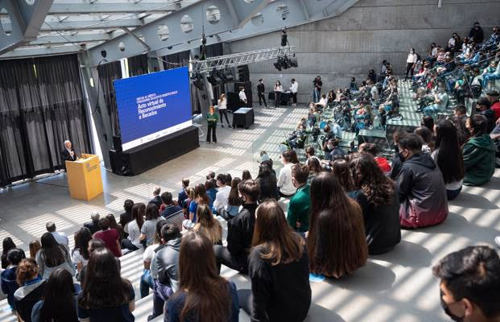 "Roberto was deeply convinced that education is a vital factor for people's development, for social mobility, to create opportunities and foster growth. These beliefs were transmitted throughout the entire Techint Group and today are core values for us," highlighted Paolo Rocca at the commemorative event held at the Roberto Rocca Technical School in Campana, Argentina.
"Education should not be taken as a privilege, for it is both a right and an obligation, an extraordinary opportunity enabling each community to grow in tandem with the continuous improvement of all its members. Education is the cornerstone of a constructive social dialogue that fosters progress and growth," Rocca stressed.
For her part, Erika Bienek, Director of Community Relations of the Techint Group (CORE), explained that, "In order to reaffirm the Techint Group companies' commitment to their communities, as of June 2022, all the educational programs promoted by the Group will be managed under a single umbrella, bearing the name of Roberto Rocca. This will endow them with a shared identity, connecting all of our educational projects, and will enrich them by enabling knowledge sharing and mutual learning opportunities within our communities."
Bienek added that, "Springing from this initiative, all of our educational programs for our communities are now aligned with the same guiding principles and synergy: the Roberto Rocca Technical Schools, Roberto Rocca Tech Gene, Roberto Rocca After School and Roberto Rocca Scholarships."
It should be noted that the project has only been possible thanks to the permanent support of students' family members, teachers and school directors, who have been present throughout the program to support and encourage these young people.
"Within CORE, we are inspired by the conviction, thanks to Roberto Rocca's legacy, that this passion for what we do will take us far. Our contribution may be little more than a grain of sand from the overall perspective of community progress, but it has the capacity to transform lives. When we see how far the boys and girls taking part in some of the Group's educational programs have evolved, and how not only they, but also their families and their environment, have improved, we feel a profound satisfaction," concluded Bienek.
From a broader point of view, the Techint Group cherishes its permanent pledge to provide training, technology and infrastructure to further its educational goals, including opening its plants to share knowledge. It is committed to supporting all of its scholarship holders (secondary, undergraduate and postgraduate) on their path of progress, recognizing their efforts and tenacity, and upholding transparency and the search for excellence.
*For more information on the requirements and conditions to apply for the Roberto Rocca Scholarship Program for high-school students, please visit www.robertorocca.org/en/scholarships