Puesto Parada: Making the path with every step taken
Each 4-wheel drive or truck that travels through Fortin de Piedra does so on one of the roads built by the Locations department. We spoke to Marcelo Carabajal, head of the area in the Neuquen basin and Vaca Muerta.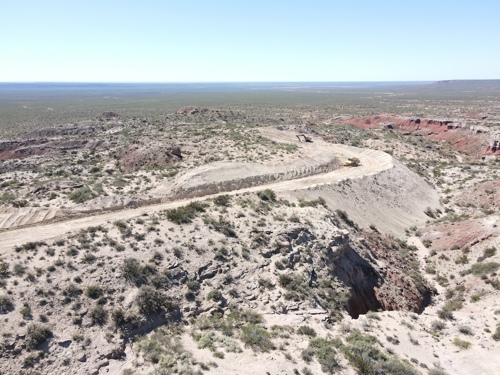 "Our job is to make sure that people can get from A to B," says Marcelo, succinctly. His team's task is as simple as that: they start work at a point in time when a road could pass through just about anywhere—or not—depending on the natural access conditions in the locations of the projects.
"Our work focuses on defining the beginning of the road, and starts off with a geological survey. They carry out in-depth studies of the coordinates; basically, we analyze surface conditions while they do the underground part. Based on the topography of the surface, we begin planning the facilities and routes in the context of the area designated for the wells and pads." This is a key part of the process, as what we do comes right at the beginning, at the starting line so to speak. Everything begins with the people in Geology: we collaborate with them as they perform the study of the coordinates chosen. Our task is to analyze what is on the surface because exploration, logically, takes place underground. Based on the topography of the surface, we begin to plan the facilities and the routes within a range established by them for the cases of wells and pads." This decision is vital, because at this point a key factor comes into play: how to design the structures and land routes to ensure they have as little impact as possible on the surrounding environment. That's our bottom line, the most important rule."
"Making the path as we go. Experience tells us that it's not quite that simple, but taking the first step is always a good start. These are the first meters in the direction of a road which will eventually become kilometers and hard surface to be traversed by 4-wheel drive vehicles en route to the pads, wells and facilities. And then when they return, travelling back to their families, to meet their teams or go to the offices.
"The first stage is the scouting where we examine satellite images and maps as well as making field trips, usually on foot, which often take several hours. After that, we develop the topography and the coordinate simulation formalities so we can carry out the environmental and pluvio-alluvial impact studies required prior to developing the project."
Turning the inaccessible into something accessible. Their task is never done, and also involves the permanent quest for continuous improvement: "At each well start-up we have a kick-off meeting. The project is presented, discussed and planned. As work progresses, we begin to see areas where improvements can be made, and we deal with the changes as they arise and try to solve them but without affecting the works schedule. We're all working together as a team: contractors, inspectors, supervisors, the safety crew, the surface and community relations team, and the environment team. There is a continuous and constant interaction focused on identifying and achieving improvements."
Puesto Parada, Los Bastos and areas of paleontological interest
The reference to tracing a path is by no means a chance metaphor, because the area, due to its peculiarities and the special characteristics of Puerto Parada, is where several projects are going on at the same time. Paths that never end, splitting and separating endlessly. Or they begin again after a bend, only to converge once more. A multilayered route with many tracks running in parallel: "We are responding to needs and particularities as they come up. For example, we are currently working in an area of great paleontological interest: Los Bastos. Before we begin work, we get training and guidance from specialists coordinated by the Environment team, so that we can define criteria to help us perceive or identify what could be an important find, so we can apply the corresponding protocols to respect the area and preserve the discoveries. As we are in an area of interest, we are operating with extreme care and taking all the necessary precautions."