Flexibility and diversity, an integral part of Tecpetrol's new benefits
Adding days to maternity and paternity leaves for employees, and new ways of combining face-to-face and remote work to suit the task.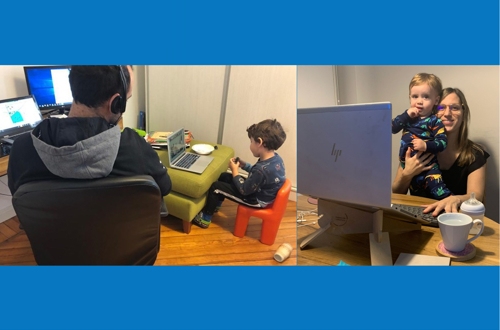 The company recently announced a full range of benefits which have already been put introduced throughout Tecpetrol as well as the Techint Group as a whole. The measures come in response to the concerns raised by employees in the recent series of workplace climate surveys, and reflect new trends in the world of work. There are two groups of measures.
The first concern parents, as those expecting babies, will be entitled to a minimum of 120 consecutive days of paid leave for primary caregivers (of either gender, including homo-parental couples) and a minimum of 30 consecutive days for secondary caregivers (the person declared by the employee, of either gender, including homo-parental couples).     
"The big change is in diversity since we are talking about mothers or primary caregivers and fathers or secondary caregivers, with the aim of including homo-parental couples," explained Julieta Delorenzi, the Cultural Transformation manager, to TecpetrolHoy. The measure is centered on inclusivity and represents our willingness to respond to social changes.
The same benefits apply in adoption cases where maternity or paternity benefits used to only envisage leave of seven days. The initiative includes a flexible regime for new mothers and fathers, in the period following leave to be implemented in coordination with those responsible for each area.
The second group of benefits is for all Tecpetrol employees. The Remote Week Program offers people the chance to work from home for up to 14 consecutive days (or seven consecutive days in two different periods) a year. This can be from home or from wherever you want in the world, as long as this does not interfere with your work function, both regarding schedules and tasks.
Those who choose to enjoy this benefit have to sit down and plan everything in coordination with their supervisors as well as make sure they have all the necessary equipment and network connection to do their job properly.
"This measure follows on from what we've seen happening over the last two years, where it became clear that it's possible to continue working remotely," added Delorenzi. She highlighted the need to encourage people to come into the office nonetheless, with a specific goal in mind, either according to the tasks of each sector in particular, such as to support the initiative to re-build teams, after the period of isolation.