Summer practice 2022: welcome to the world of work!
On January 3, the first induction course was held in virtual format for over 200 university students selected to take part in the company's Summer Educational Practices 2022.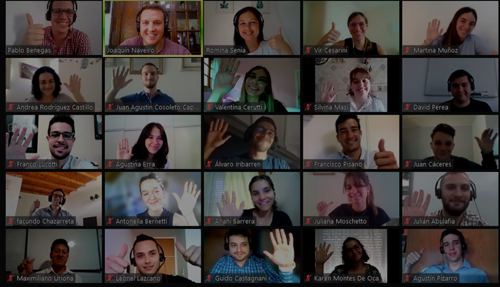 The Summer Educational Practices (PEV, in Spanish), is a unique program developed by the Techint Group and held every summer in the southern hemisphere since 1985. Aimed at university students looking to take their first steps in the professional world, the idea is to integrate the academic universe with the workplace.
During the three-month course, the 203 young people selected will be assigned projects as well as a tutor who will mentor them through their training. These experiences at the PEV are aimed at enabling the summer interns to acquire new knowledge, developing their creativity, flexibility, and problem-solving skills.
The induction event was coordinated by Pablo Benegas, Senior Consultant and Training Manager from the consulting firm Ingouville, Nelson & Asoc., and Romina Senia, who is the Techint Group's Training & Development Coordinator. Divided into three sessions, the meeting aimed to create a space where participants could also share their opinions and new ideas for the development and growth of the Techint Group companies.
Of the total number of students in the program, 70 will be joining Ternium, 69 Tenaris, 38 Tecpetrol, 15 Techint Engineering & Construction, 2 Fepsa, and 9 the Central Organization. So far, 2,269 students have benefited from this initiative.
The kick-off meeting was mainly focused on a first look at the challenges involved in the world of work, focusing on the concept of "accountability". This definition can be summarized as each person's ability to understand their role in an organizational context. It centers on their commitment to incorporate the objectives established to guide their work for the different companies and the responsibility accruing to each one as part of a larger process.
The event also included a session that examined the concept of "objectives", defined as the concrete actions required to achieve an assigned task in a given context, and the skills required to function in the current ethical framework. These were divided into five subsets: business capabilities, customer orientation, professionalism, leadership and collaboration, and teamwork.
Additionally, the leaders also took the time to explain the student assessment methodology, similar to the performance evaluation and analysis process held annually throughout the company.
To end the session, the organizers showed a video in which interns from earlier editions of the program shared helpful tips, advice, and opinions to help the new students make the most out of this experience.