Unprecedented synergy breaking new ground
The Pesqueria Power Plant is already supplying energy and transporting natural gas to the Ternium Industrial Center, thanks to a network of new direct connections: a success story of cooperation between companies from the group.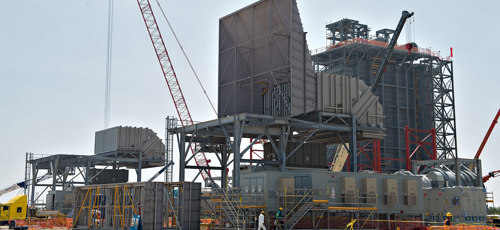 A collaborative project between two Techint Group companies put their leaders' management skills to the test. Although not entirely trouble-free, they nonetheless agree that this was a positive experience. The Pesqueria Power Plant in Monterrey, Mexico, has since August been delivering energy to the Ternium Industrial Center, supplying direct gas and electricity connections and promoting the optimization of resources as a solution for short-term development. These achievements are unprecedented since the combined cycle power plant is supplying electricity to its own industrial center without using the national power grid—a first for the plant and the group. This is the fruit of a long and complex negotiation process with the authorities, as well as between the Group's own companies (also involving Tenaris as a beneficiary of part of Techgen's energy), eventually making it possible to reduce transmission costs and the surplus generated at the power plant.
"This is another great challenge that we've overcome as part of Techgen, a far-reaching cooperation project between the Group's sister companies, headed up by Tecpetrol," acknowledged Alejandro García Estebarena, who is the Commercial, Planning and Human Resources manager, in dialogue with Tecpetrol Hoy. The results are extremely encouraging, even though the timing was more drawn out than expected after the formal procedures kicked off in April 2019. The delays were not only due to the pandemic but also to the challenging context for private electricity generators under the current national administration.
The project involved significant amounts of bureaucracy: a range of procedures, permits, and authorizations which had to be secured, in addition to signing large numbers of contracts and agreements, all required to lay six kilometers of power lines, expand two electrical substations, build a 650-meter gas pipeline extension, and gas regulation and measurement station. All this to power the new industrial center, home to the most modern flat steel hot rolling mill in Latin America. "The optimal gas supply solution involved using the power plant's gas pipeline to supply both companies, even though this was extremely complex from the regulatory point of view," concluded García Estebarena. "But it's how the enterprise turned into a comprehensive project involving two different chapters: gas and electricity."
A regulatory maze
"There is currently no specific regulatory framework covering the particularities of what we proposed. This is why there was so much work to be done between Techgen, its relationship with Ternium, and the authorities," explained Adela Guillaumin, the Commercial Manager of the Pesquería Power Plant. She is an expert in gas and contracts who played a key role in paving the way to achieving consensus rather than getting caught up in internal discussions which would have been less than productive.
"The Pesqueria Power Plant has pioneered a number of techniques, turning it into a case study for the authorities involved," explained Abraham González, a commercial analyst responsible for coordinating technical issues in the area of electricity, but also with substantial expertise in managing permits and the relationship with the authorities. "We added and combined regulatory schemes that other power plants don't have… This is something that has also become more complex in terms of how it's explained, but basically, we were able to take advantage of the opportunities involved because we could show that our project had no inherent contradictions as regards the regulatory situation, nor in terms of the attributions and intentions of the competent bodies involved."
Two years after embarking on this process, on October 13, the physical natural gas connection was completed, making the project a success story for the industry as a whole in addition to its relevance as an achievement for the Group. "The level of cooperation between the companies is worth highlighting," said Guillaumin, adding that "on both sides, we have people with significant expertise in their areas. It was an excellent exercise as we were all working towards a common goal."