Our Stories: Michielle Zurita
"Our Stories" is a podcast series where we share stories about the life, achievements, and dreams of the people who build Tecpetrol every day. In this edition, we meet Michielle Zurita.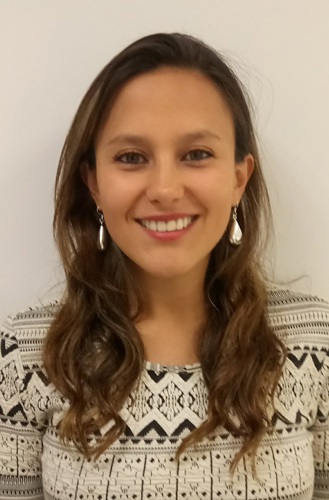 Michielle Zurita is an industrial engineer and the chief of Commercial Planning for Ecuador—as well as a yoga teacher. She heads up a team that understands her high standards when it comes to preparing perfectly aligned spreadsheets. At the time of this interview, she was just one month from giving birth to her first baby.
When she chose her career, she found herself having to listen to her own voice as she hovered between family and social expectations. Because of her excellent communication skills, her family was keen for her to study Literature or Law, "but I liked numbers better," confesses Michielle. It was during a medical consultation when a doctor suggested that she talk to his son, who was studying for a degree in industrial engineering, a relatively new subject in the country at that time.
However, initially, she was hesitant and at one point even thought, "What if being a woman works against me?" particularly as her parents voiced their fears and transferred them to her. "But things were different when they were young," reflected Michielle. "Engineering is partly about the numbers but it includes the social aspect as well, as your job is to improve things for people... Then, there is the saying that an engineer does it well but an industrial engineer does it better!"
At the age of 22, Michielle moved to work in Santiago de Chile and at the same time, started to avoid eating red meat, a decision which led her down the path to vegetarianism, a practice she deepened after moving to the UK for her postgraduate studies. 
A few years later, she decided to study yoga, which she initially defined as a personal space and moment, a refuge, eventually prompting her to take a 200-hour yoga instructor training course in India. "People think that yoga is for people who are perfectly balanced and actually, sometimes the opposite is true," she said of this experience. 
There was a moment during her early career at a mining company when the possibility of working at Tecpetrol arose. But after all the rounds of interviews, the burgeoning crisis in the industry put a stop to hiring. "When I was back in my comfort zone, they called me up again and I took this as an opportunity to think through many things," she commented. At that point, she listened to her father's advice: whatever the decision, don't look back. "So then I said to myself, OK, let's do this. I resigned from that job, and now, I've been working at Tecpetrol for almost five years."
Her personal brand is the preparation of exemplary Excel spreadsheets for work—but she also does this for her pet vaccination schedule, to organize activities during vacations in Japan, or for baby stuff, as motherhood is her next big challenge.
In short, Michielle's mission in life is to find balance, looking for quality time, and sidestepping the stereotypes that say things have to be done in a certain way. "Our contribution to the world," she says, "is to raise good people."
LISTEN TO MICHIELLE'S STORY (IN SPANISH)
If you want to share the podcast, just follow our account on Spotify, Apple podcast, Google podcast, Deezer, and other platforms, under Tecpetrol podcast.