Our Stories: Eugenia Aniasi
In a new episode of Our Stories, we meet the person behind the position. Eugenia Aniasi heads up the Mexico exploration project and talks about the challenges of juggling her professional life with raising her daughter Martina.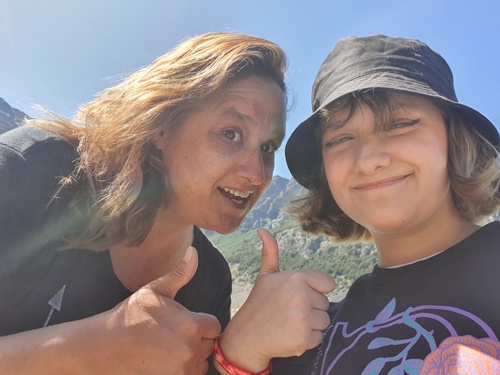 María Eugenia Aniasi is an exploration geophysicist and her love for nature and science began at a very early age. She recalls her enthusiasm over a battered copy of the encyclopedia written by legendary French oceanographer Jacques Cousteau, which she studied for hours at a time, poring over its images of the sea and the stories of how oceans were formed and the history of geology. At home, studying was taken seriously, as both her mother and father were very much in favor of reading as a pastime.
As time went on, Eugenia's fascination with nature blossomed into a vocation, thanks to a career test that pointed her towards exact and natural sciences. Although in her hometown of 9 de Julio, deep in the province of Buenos Aires, there were no geologists, much fewer mountains. "Out in the pampas it was pretty strange for a woman to say she wanted to be a geologist," she recalls with a smile. But that was where she was determined to go, and at the age of seventeen, on a visit to the Natural Sciences Museum in the city of La Plata, she realized more specifically what it was she wanted to study: geophysics.
Today, she's been working at Tecpetrol for eleven years, since she took on the role of heading up the exploration project in Mexico from Buenos Aires. In retrospect, this was a turning point in her career, as she took a path strewn with challenges and the need to juggle her professional career with motherhood in a one-parent home. Being a single mother to Martina (now fifteen) gave her the mettle to break through the glass ceiling and find a new model of female leadership in the industry.
Eugenia clearly remembers the first advertisement for a job at Tecpetrol that she saw in the newspaper Crónica de Comodoro Rivadavia, the province where she began her career in the Oil & Gas industry. She recollects that it said: "Seeking a geophysicist or seismic interpreter with five years or more of experience', and a few more details, and I thought, 'Yes! This is for me! It's got my name all over it!'."
At the time, her daughter Martina was just four years old, and despite the difficulties involved in moving to Buenos Aires, she did not hesitate. It was time to grow in her profession. However, before she could even think about renting an apartment, the most important thing was to find a nanny to look after her little daughter Martina, since her family support system was a long way off. "I really needed to find exactly the right person, what I call a fairy godmother, someone who can do everything. It's such an incredibly important decision, as you're leaving the most precious thing in your world in someone else's hands," she reflects.
The way in which she reconciled the role of mother and professional is central to Eugenia's story, and she explains that she is no stranger to gender biases: "Initially, I felt that I was at fault both as a professional and as a mother," she recalls. She goes on to comment on those spaces where people socialize outside the office—except that they seem to be exclusively about encouraging people with no parenting responsibilities to build professional relationships based on trust.
"I never thought they would consider me for a leadership position because I'm a single mom, and I have to rush off and deal with all kinds of problems at any time, but they clearly noticed something in me that showed them that I could rise through the ranks, and this came naturally."
Eugenia has been in the industry for eighteen years and has personally lived through all the stages of the changes in diversity perspective. Additionally, due as much to her personality as to her upbringing, molded by strong, determined women used to taking action, she managed to overcome the obstacles encountered.
Today, this is the legacy she is building for her daughter Martina, teaching her to be considerate towards others, responsible for her own life and decisions, and, above all, to be human.
LISTEN TO EUGENIA'S STORY (IN SPANISH)
If you would like to share this podcast with your family and friends, follow our account on Spotify, Apple podcast, Google podcast, Deezer and other platforms. Find us as Tecpetrol podcast.