PRESENTES!
In the 2021 edition of the Eikon awards for excellence in institutional communication organized by Imagen magazine, the Techint Group won the award for the best communication campaign linked to the COVID crisis in the category of Sustainability in Health, while Ternium stood out in Sustainability in Education and Events.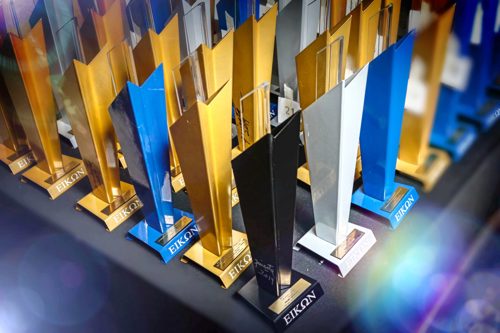 The EIKON Awards are the first Argentine award that recognizes the work of communicators, public relations, journalists, publicists, and event organizers. The EIKONs have been managed and delivered since 1998 by IMAGEN magazine.
The decision was based on the following parameters: Innovation, creativity, results obtained with the available budget, coherence in its execution, ethics, and quality and clarity of the different communication initiatives.
The Techint Group decided to participate in the category "Sustainability in Health" that recognizes programs dedicated to health education, promotion of healthy habits, and promotion of health centers, as well as concrete contributions to public health.
Faced with the complex problems posed by the COVID-19 Pandemic, the Techint Group launched a plan to strengthen health systems. In Argentina, the investment was $ 402 million to collaborate with 31 hospitals of the different communities where it operates.
Techint also worked with the health authorities of each district to design a plan according to urgent needs and execute it in record time, through the articulation of public-private efforts in an internal and external communication campaign known as PRESENTES. 
"Today we have to share an unthinkable present for everyone; for this reason, we feel the commitment and the desire to be where it is needed," highlights the first of a series of videos through which the Techint Group in Argentina accompanied the different instances and actions with its communities.
Being present has been an integral part of a long-standing industrial project, where tangible and concrete actions are the company's essential value. The current coronavirus pandemic not only reaffirmed this commitment but allowed it to incorporate new nuances.
Ternium, winner of two awards
Meanwhile, Ternium was also distinguished in the categories of Sustainability in Education and Events.
Within the framework of the Gen Técnico program, Ternium Argentina and the Hermanos Agustín and Enrique Rocca Foundation inaugurated the best-equipped Robotics and Automation Laboratory in the country's public education schools, at E.E.S.T N ° 6 in San Nicolás. The $ 18,000,000 work benefited 630 students, who now have better equipment in their educational establishment.
In addition, the company was awarded in the Events category for the virtual Ternium 2020 Meeting, which brought together 10,000 employees to say goodbye to the year and shorten distances. The company simultaneously summoned collaborators from 7 countries to a 100% online and interactive event for the first time. There were exclusive musical segments by the artists Julieta Venegas, Abel Pintos, and Os Paralamas, raffles, and other surprises.
The awards ceremony will be held on December 6 at the Sheraton Hotel in Buenos Aires.